Butter Paneer Masala is a traditional Punjabi recipe in which soft pieces of Paneer are cooked in rich creamy butter & tomato gravy. It goes by various names like Butter Paneer, Paneer Makhani etc. the dish is characterised by rich and aromatic gravy made by using tomato puree, onion paste, cashew paste, and some essential Indian spices.
Paneer is a type of fresh cheese common in Indian subcontinent, and Paneer butter masala is one of the most popular Paneer recipes in Indian cuisine. This is one of the most ordered dishes in Indian restaurants and has gained popularity in non Indian people as well who occasionally like to try Indian food.
The near perfect combination of spiciness and creaminess of its gravy coupled with lightly fried Paneer cubes makes this dish sumptuous. Paneer Butter Masala pairs very well with most Indian Breads like Phulkas, Naan, Tandoori Roti, Paratha etc. as well as with Rice varieties like Veg Pulao, Jeera Rice or even plain rice.
Preparation time: 10 minutes
Cooking time: 30 minutes
Serves: 3 servings
INGREDIENTS:
250 gram Paneer or Tofu
3-4 Garlic Cloves
3 medium Tomatoes
6-8 Cashew Nuts, soaked in water for 15 minutes
1 small piece of Bay Leaf
2 Green Chillies, slit lengthwise
1/2 cup Full Fat Milk
2 teaspoons Kasuri Methi (dry fenugreek leaves)
1/2 teaspoon Garam Masala Powder
1 tablespoon Coriander Powder
1 teaspoon or to taste Red Chili Powder
2 tablespoons Fresh Cream (or homemade malai)
2 tablespoons Butter
2 tablespoons Oil
Salt to taste
Step by step instruction for Paneer Butter Masala:
1. If you are using frozen paneer cubes, then defrost them.
2. First of all, grind onion, ginger and garlic in a grinder and make onion paste. Grind soaked cashew nuts with 2 tablespoons water to make cashew nut paste. Blanch the tomatoes and blend them to prepare tomato puree.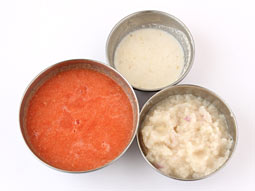 3. Secondly, heat cooking oil and butter in a non-stick frying pan over medium flame. Add onion paste and bay leaf and sauté until onion paste turns light brown for approx. 4-5 minutes.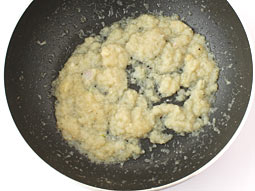 4. Add green chilli and red chili powder and sauté for 30-40 seconds. Add cashew nut paste.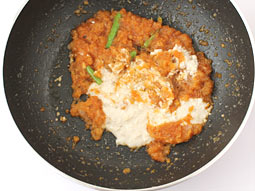 5. Stir and cook for 2 minutes.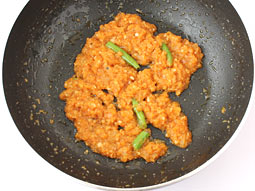 6. Add tomato puree and cook until oil starts to separate from the puree, it will take around 3-4 minutes.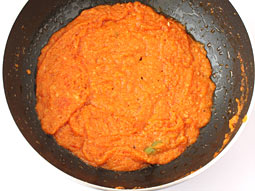 7. Now, add coriander powder and garam masala powder and mix well.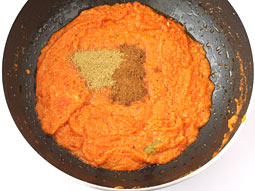 8. Next, we need to add 1/2 cup milk, 1/2 cup water and salt; mix and cook until oil comes on the surface or for approx. 4-5 minutes.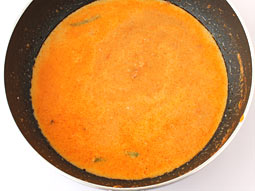 9. Now add 
paneer cubes
, kasuri methi and cook for approx 2-minutes or until you get the desired consistency of gravy.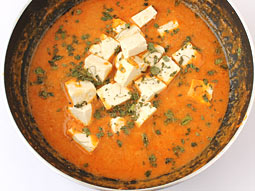 10. Add fresh cream.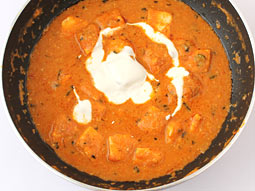 11. Mix properly and turn off the flame.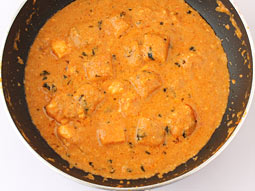 Now, transfer prepared curry to a serving bowl. Garnish Punjabi paneer butter masala with milk cream or cube of butter and serve.
Serving Ideas: Serve delicious paneer butter masala with naan, paratha, roti or jeera rice for lunch or dinner. The creaminess of gravy and richness of paneer makes it an ideal spicy curry for functions and parties. It particularly tastes best when served with methi roti and glass of lassi.
Cooking Tips and Variations:
Add 1/2 cup water in step-8 and cook for 3-4 minutes if gravy is too thick.
You can also use chopped onion instead of using crushed onion for variation.
You can also add shallow fried paneer cubes. Spread good quality paper napkin or kitchen paper on plate and put shallow fried paneer cubes on it to soak and remove excess oil from it to make relatively healthy low oil curry.
If you like creamier gravy, then add more milk cream in step-10. Alternatively, if you do not like creamy taste, then you can altogether avoid using cream.
Paneer is used in this traditional indian curry recipe however, you can use tofu if paneer is not available.
Please follow and like us: